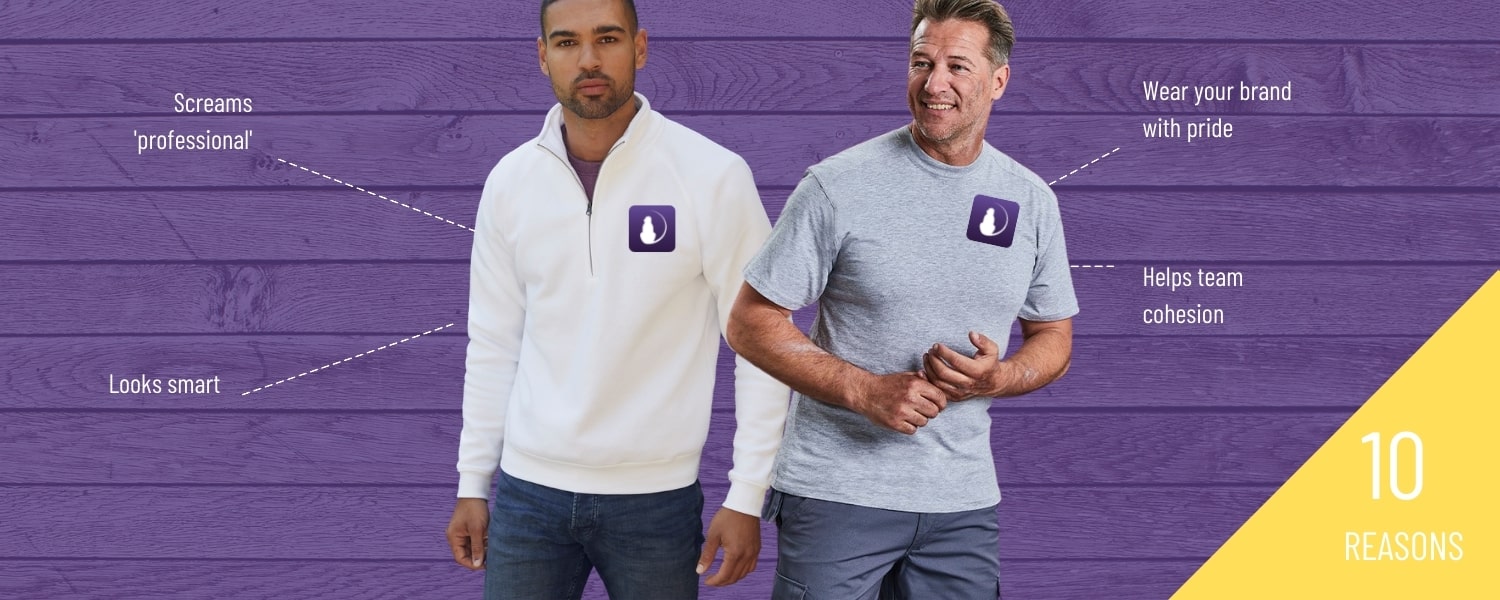 10 Reasons Your Team Should Be Wearing Custom Workwear
Uniforms, workwear and team kits aren't a new thing! In fact, you'd expect people in particular businesses and professions to be wearing a uniform or branded workwear. And yet, we still see so many businesses with staff in their everyday clothes. If you're on the fence about whether to kit your team out with some branded workwear attire, we're here to help you make that all important decision. 
Here are our top ten reasons why your team should be wearing custom workwear. 
1. Workwear Screams 'Professional'
Whether you're a team of thousands, or a sole trader, nothing says 'professional' than a nicely branded uniform. 
Think about it! When have you ever been to the bank or doctors and been met by someone wearing jeans and a jumper? It just doesn't happen. And if it did you'd probably make an excuse and rearrange your appointment, or worse, change your bank or register with another GP surgery. 
Granted there are certain professions where you would expect to see people in uniform or smart attire. But that doesn't mean that small businesses, or even solo traders shouldn't follow suit (excuse the pun). In fact, a few years ago, a survey found that 38% of people don't trust roofers or builders when using them for the first time.
The truth is trust can be built through professionalism. Arriving on time, not going over the quoted amount and looking the part. With a small investment in branded workwear, you're sure to make a great first impression.
2. Branded Workwear Always Looks Smart
No matter what your industry branded workwear will always look smarter than off-the-shelf workwear.  
Whether you're a builder, a stylist, a waitress or a banker, having a uniform or a matching outfit with your business logo will definitely look smarter compared to non-branded workwear. 
3. Keeps Everything Consistent
Let's say your team or brand colours are red, and imagine that you've told everyone to wear red to work or for a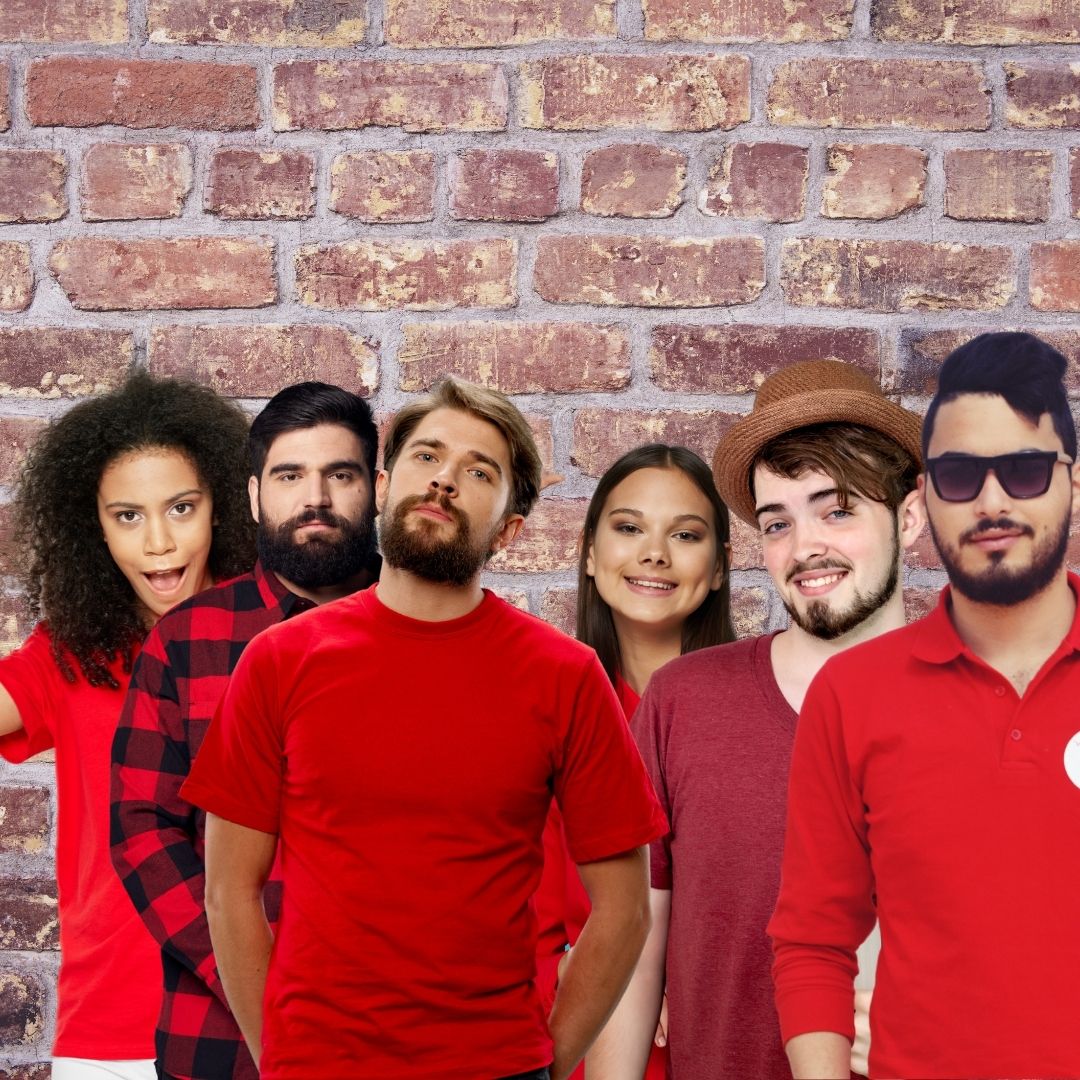 special event. Now imagine how annoying and weird it looks when everyone turns up in slightly different hues of red, because naturally people shop in different stores. 
Now imagine how pleasing and consistent everything looks when everyone is wearing the exact same garment in the correct size with a beautifully printed or embroidered logo? Perfection, right? Consistency is key to building a brand and it also helps with making a great first impression. Happy customers equals returning customers.  
4. Reinforces Your Brand
Instead of simply buying the same kit or uniform for your team, why not go one step further and brand it with your business logo? 
As we've mentioned, having branded workwear can make your team look smart, professional and consistent. Not only that, it reinforces your brand. This is particularly important if your team attends events or exhibitions, travels to customers, or to different sites. While your team is away from the office they are on show. They are wearing and representing your brand and therefore reinforcing it!  
5. It's FREE Advertising
Following on from the above point, when you've got a team of people wearing your brand it's essentially free advertising. Imagine how many opportunities your team get to show off their workwear on the way to or from work. If they stop for petrol, grab a bite to eat or nip to the shops wearing their uniform the chances are people are going to see your logo and be reminded that your business exists. 
One of our regular customers is a piano tuner and repairer. He is mainly a sole trader using a small team of people to move and tune pianos. He told us that when he got his printed t-shirts people would actually stop him in the street asking him for his details. When he started including his telephone number on his shirt people started taking photographs of his shirt to call him later. 
Granted, this is small-scale advertising but wearing your brand is reinforcing. It's a talking point and it could lead to life-long customers. 
6. Helps Team Cohesion
C.S Lewis once wrote "Two heads are better than one, not because either is infallible, but because they are unlikely to go wrong in the same direction." You've probably also heard of the expression 'teamwork makes the dream work!'
The point we're trying to make here is that cohesive, cooperative teams are going to achieve way more than the individuals. But don't just take our word for it. The importance of teamwork has now been proven by Science.  Teamwork has been found to:
Generate new ideas

Make individuals happier

Help individual to grow and develop new abilities

Reduces burnout

Increases productivity

Increases creativity. 
Most importantly happy teams, means happy staff and happy customers. But how can branded uniforms and workwear help with this? 
When everyone is in a 'uniform', people feel united.  It helps people to adopt a group (your group's) identity, making everyone more likely to pull in the same direction, towards the same end goal. Not only that, it helps individuals to feel accepted and part of the team which is particularly important for new staff. 
7. Staff Don't Have to Buy Their Own Clothing (bonus!)
Most of us hate to have to spend money on clothes we're only going to wear to work, right? By establishing and providing a uniform for your team, not only will they look great, you can even call it a perk of the job! 
If your team are likely to get through a lot of uniform then the cost to individuals can really mount up. However, if you're a business buying for the whole team then we do great bundle deals and bulk discounts across all of our items.   
8. The Right Workwear For The Right Job
Shopping around for team kits, uniforms and workwear at a specialist outfitters like Brand Monkey, not only saves you a bundle. It also ensures that you're buying specific workwear for specific roles. 
For example, we do a great range of hi-visibility workwear, railway standard garments including vests, jackets and bibs. And because they are designed for the outdoors you'll find garments that are wind-proof, water repellent, super warm, comfortable and above all, durable. 
Similarly, a lot of our polo shirts and t-shirts are durable, comfortable and washable at 60 degrees, meaning if you work in a mucky industry – we've got you covered. Literally!
You'll also find a range of uniforms for specific industries such as aprons, chef jackets, spa tunics and salon gowns. It's hard to buy these from just anywhere and we'll make sure to source you a garment that aligns closely with your brand. 
If you want to add an embroidered logo then we've marked all of our garments with suitably for embroidering, which is typically materials above 180 gsm weight. 
9. Makes Your staff Approachable
When your staff are wearing branded workwear, they are easily recognisable to customers. This makes them easily approachable and more likely to engage with a member of your team that can help them. And we know that once engagements start to happen, your customers are much more likely to buy from you, remember the positive experience, and return for more.
10. We're Promotional Clothing and Embroidery Specialists
Having been in the leather industry for over 30 years, there isn't much we don't know about design, manufacture and apparel. We're a new venture with bags of experience! And we're working hard to become known as Embroidered workwear specialists in Leicester and across the UK. 
The best thing about embroidered logos is they last way longer than print. Printing is a great option for thinner materials that aren't expected to last long. But for busy, hard working or mucky monkeys we'd definitely recommend a hard wearing embroidered logo. Our process for customising workwear is super simple and once we've digitised your artwork we'll keep it on file for future orders. This means you only have to pay for the digitising fee once! 
Everything we sell has bulk order discounts available and you can join the troop for an extra 5% discount. 
Our website is still pretty new, so if there are garments that you need in a specific style, fit, material or colour then let us know and we'll source it. 
Brand Your Workwear
Now that you've read through the 10 reasons your team should be wearing custom workwear, it's time to get branding. Remember that with a small investment, you can ensure that your teams look smart, professional, and suitably dressed. 
A  uniform can also give your employees pride. And when this happens they become mini brand ambassadors for your business. So give us a go! We can't wait to brand your workwear! 
Next post
Embroidery vs. White Toner Printing: Which is Right for Your Workwear?